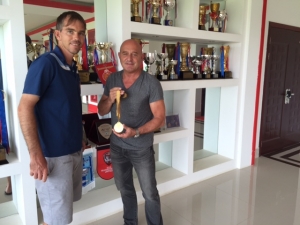 Cambodia update
01-07-2016
STARBALM sales really taking off in Cambodia after a very successful introduction last month. More and more people asking about the STARBALM brand.
Due to the enormous request of STARBALM in the first month of introduction, one of the biggest Pharmacy chains 'Guardian' listed the complete STARBALM range as well. By this way, we make sure STARBALM is available for everyone.

Next to this new introduction, our President of Novum Pharma, Dick van Tintelen again met with the Swiss Sam Schweingruber. He is the successful head coach of the number one football team PP Crown in Cambodia. Together they discussed further collaboration and exchanging ideas expanding the STARBALM awareness and usage in Cambodia. Exciting developments!


Back