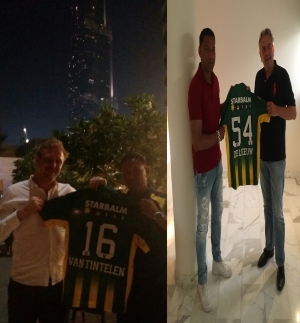 Professional Football Team visit STARBALM Dubai
19-05-2016
Last week, a nearly full ADO The Hague squad including their staff enjoyed a well deserved holiday in Dubai.
The football season 2015/2016 came to an end for ADO The Hague where they end on a beautifull 11th position in the Dutch Premier League. The squad of coach Henk Fräser therefore decided to book a well deserved trip with destination 'Dubai'. Given the fact that a few months ago, STARBALM just opened their first office in Dubai, this of course was a great opportunity for the players and staff to visit shirtsponsor STARBALM.

On wednesday, Managing Director Middle East Mr. Jasper van Tintelen welcomed a few players and the full staff. This meeting were followed by a tour throught this beatiful city, some stops at the biggest hotspots and end on Thursday by visiting the Dutch Consul-General who is a big fan of ADO The Hague. Mr. Van Tintelen proudly says 'with the opening of our first office in Dubai this was a great opportunity to express our partnership with ADO The Hague in the Middle East. Looking to current development in football, and sport in general, a professional football team from the Netherlands which pays a visit is hot!' The media and press therefore where also present to catch a glimpse of some of these players.

To finish this great sponsor visit STARBALM arranged a shared dinner at one of Dubai's finest hotspots. Despite the fact that they were on holiday, the joined company couldn't resist to talk about football , of course the business vision of STARBALM in the Middle East were interested subjects as well. As a thank you of being a good host both Mr. J van Tintelen as Consul-general Mr. De Leeuw received a beautiful signed match shirt from coach Henk Fräser.

On behalf of shirt sponsor STARBALM, we would like to thank the full squad for another great season and we wish them a great, well deserved vacation!





Photo: Coach Fräser handed over both signed shirts.
Back