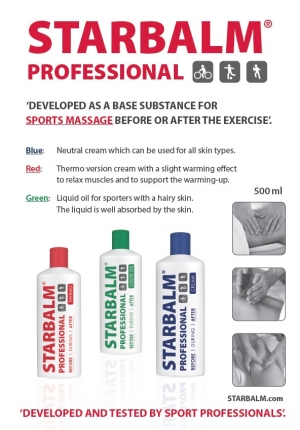 Professional Massage
19-07-2016
Meet our newest massage product, developed by and made for sporters in collaboration with the medical staff of ADO Den Haag.
STARBALM® Professional is developed as a base substance for sports massage. This product is mainly used by professional masseurs and physical therapists. The blue cream is neutral and can be used for all skin types while the green bottle is specially developed to treat hairy skin. Our red 'thermo' version has a slight warming effect to relax muscles even more. Our other STARBALM products can be used in combination with this professional line to create a massage substance of preference.

Physiotherapist or Masseur and curious about the function of these top products? Please contact us for further information or if you'd like to try the Professionals!
Back