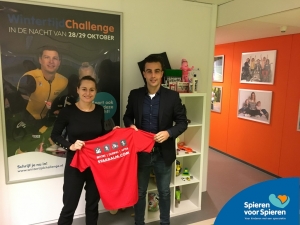 Social Partner Spieren voor Spieren
15-12-2017
We are proud to announce that we have extended the cooperation with the Spieren voor Spieren foundation.
Since September 2014, STARBALM has been connected to Spieren voor Spieren as a Social Partner. Spieren voor Spieren means actually 'Muscles for Muscles'. This beautiful foundation is committed to children with a muscle disease. Again, STARBALM will support the foundation with an annual contribution for the next 3 years. In addition, the sportcare brand will be committed to support sportive actions which are organized by ambassadors, clubs and individuals. An important part of this will be the sportclubs. In cooperation with Spieren voor Spieren, STARBALM will stimulate the sportclubs and its members to organize actions.

By means of sporting actions and organizing events in which sports is central, money is collected annually for scientific research into muscle diseases and the improvement of the diagnosis and treatment trajectory, the financing of tools and the organization of fun days for children. Each and every person can commit their healthy muscles for children with a muscle diseas via www.spierenvoorspieren.nl


(Photo: Minke Booij, director Spieren voor Spieren & Roy Wouters, Managing Director Europe STARBALM).
Back