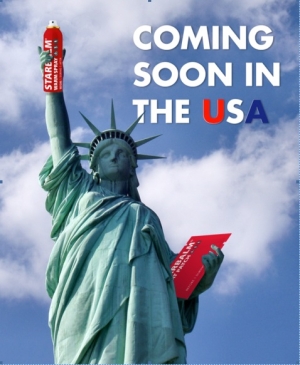 STARBALM goes USA
16-11-2015
After STARBALM® already expanded into Chinese market, we are now happy to announce that shortly our products will be available in the USA as well.
Again we added a new country to our global list of selling markets. After we expand our distribution and availability in China last month, we are now able to add another country. And not some country, it's the USA!

'Americans love sports and they have to opportunity to spend their free time with sports and to exercise' says Director Mr. D.J. van Tintelen. STARBALM® is developed by- and made for athletes who want to get the max out of themselves. Our products are very suitable to support your warming-up before sports, during you exercise of afterwards to relax your muscles and recover faster.

We were already able to sell and ship our products to the USA via our European webshops but we now expand into the market and will be available in drugstores and pharmacies shortly.
Our vision is to be available in 95% of the world with our brand STARBALM®. Nowadays we have our products being sold in more than 40 countries worldwide.

We will keep you updated!


Back