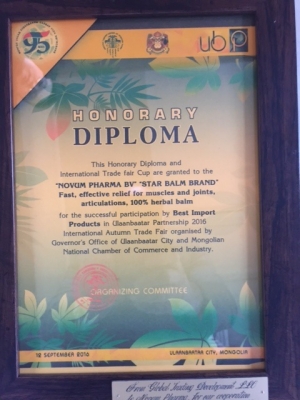 Honorary Diploma Mongolia
12-12-2016
STARBALM Mongolia receives the Honorary Diploma and International Trade fair Cup for 'Best Import Product 2016'
Late September, STARBALM Mongolia proudly received the award for 'Best Import Product 2016' from the hands of The Mongolian National Chamber of Commerce and Industry. STARBALM Sport Care is available in the Mongolian pharmacies, drugstores, online webshops and sportshops since the end of year 2015.
As a thank you for the efforts of STARBALM to sportclubs & associations, schools, retailers and the Mongolian residents, a delegation from the Chamber expressed their appreciation by highly positive words.

Next year STARBALM, in cooperation with our Mongolian distributor, will expand their current developments and partnerships. Main objective is to make STARBALM available for each, almost 3 million, residents in entire beautiful Mongolia. STARBALM will also continue their efforts for the Mongolian society in which sports, especially wrestling, are a very important part of it.


Back