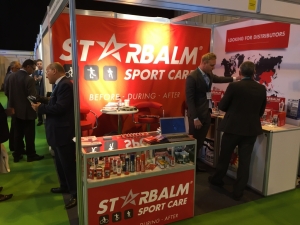 The PharmacyShow 2016
07-10-2016
The PharmacyShow has been held from the 25th till 26th of September. Of course, STARBALM® was present in Birmingham.
The PharmacyShow is the largest exhibition for community pharmacy professionals and their industry in the UK. With over 400 exhibiting companies and approx 8000 visitors, the show again was a succes.

This year STARBALM® was present with our own booth. After 2 days we can conclude that the demand for our products are getting bigger and bigger. There is a huge interest from countries in the UK and from the entire EU. Shortly we again will announce more countries where sporters can find our products. Don't forget: STARBALM® can be used before, during and after sports.


Back